SIS Assessment Orientation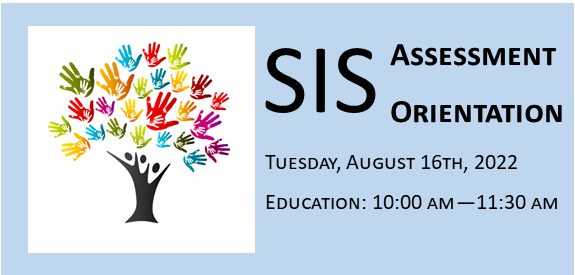 The Supports Intensity Scale (SIS) is a strength-based, comprehensive assessment tool that measures an individuals support needs in personal, work-related and social activities in order to identify and describe the types and intensity of the supports an individual requires. The SIS includes background information on health, medical conditions, activities of daily living and cognitive, social and emotional skills. The SIS was designed to be part of person-centered planning processes that help all individuals identify their unique preferences, skills and life goals.
Instructor: Elizabeth Chester is the Regional Quality Lead and Assessor of Supports Intensity Scale employed by SWMBH since 2017. Elizabeth has a Master's Degree in Organizational Management and Bachelor's degree in Psychology.
Training Points
• What is the SIS-A?
• Who needs to be at a SIS?
• What to expect during a SIS?
• What is a SIS used for?
• How to use the SIS in the PCP planning
• How to schedule a SIS
Event Times:
Log Into Training: 5-10 min before session
Education: 10:00 am—11:30 am
Target Audience
Support Coordinators and Case Managers for SIS
No cost for SWMBH Affiliates
To Register For Tuesday, June 14th please register by using this link. 
This training does not provide CEUs, however a certificate of attendance is available upon request.