Local officials are raising awareness about an increase in drug overdoses and deaths in the Kalamazoo area.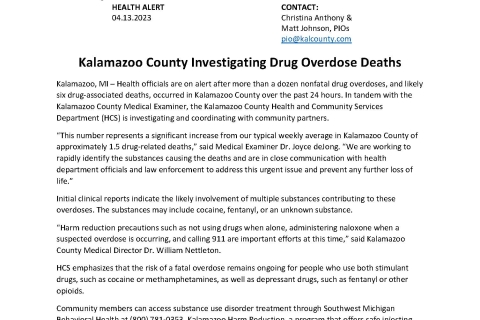 April 14, 2023: Kalamazoo County Health and Community Services released a Health Alert yesterday reporting that Kalamazoo has seen 6 fatal overdoses in the past 24 hours. Early results indicate the likely involvement of various substances contributed to these overdoses, including fentanyl. If you need information on treatment services, please call 1-800-781-0353.,
Click here for Harm Reduction and Narcan Resources
Narcan is available through the following partners:
Barry County:
• Barry County Community Mental Health: 269-948-8041
• Barry County Community Mental Health Authority
• Barry-Eaton Health Department
• Barry County Cares
• Barry County Public Defender's Office
• Barry County Serenity Club
• Family Support Center of Barry County
• Delton District Library
• Putnam District Library in Nashville
• Thornapple Valley Church (All Locations)
• Hastings Public Library
• Leftfield Cafe on Main in Middleville
• Delton Family Pharmacy
• Hastings Pharmacy
• Maple Valley Pharmacy in Nashville
Berrien County:
• Berrien County Health Department 269-927-5690
• Carol's Hope 269-556-1526
Calhoun County:
• Battle Creek Homeless Shelter 269-753-1270
• The Share Center 269-964-8133
• Substance Abuse Council 269-326-4040
• Substance Abuse Prevention Services (Albion) 517-629-2113
• Summit Pointe First Step 269-966-1460
• Washington Heights United Methodist Church 269-968-8773
Cass County:
• Woodlands Behavioral Healthcare Network 269-445-2451
Available at this location:
1124 Austin Street, Cassopolis
Kalamazoo County:
• COPE Network and Kalamazoo Harm Reduction 269-580-8290
Facebook: provides updates on various Narcan popup events and additional information on where and how to get Narcan.
St. Joseph County:
• Community Mental Health and Substance Abuse Services of St. Joseph County 269-467-1000
Van Buren County:
• Van Buren County Community Mental Health Authority 269-657-5574